A new survey commissioned by Sandler Training shows that the sales industry, which is often thought of as the least trusted profession, no longer holds this title. When asked which professions people trust the least 68 percent of survey respondents (or just over two-thirds in a nationwide poll) ranked politicians first, which may be a reflection of the current economic and political uncertainty. Salespeople were a distant second at 9 percent, followed by lawyers (7 percent), journalists (6 percent), bankers (6 percent), and mechanics (5 percent).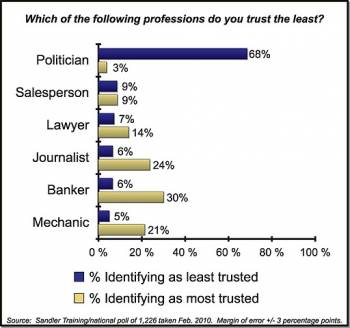 "This survey reflects the fact that the sales industry has gained respect in its perception with the general public, but there is much more that can be done," says David Mattson, CEO of Sandler Training, "Before getting into the sales process, salespeople need to establish trust and gain credibility with a prospect. This requires the right skill set which can be achieved through a reputable sales training program that has a time honored and proven methodology."
Yet, the old adage and negative stereotype of the used car salesman still remains in the public's eye. The survey found that people are least trusting of salespeople who sell cars. About 38 percent of respondents identified car salespeople as being the least trusted. Financial services salespeople are the second least trusted group. Those in retail sales are the most trusted group of salespeople (30 percent). All other types of salespeople listed (business services, insurance, training, telecommunications and home improvement) fall in between these other groups.
When it comes to how salespeople contacting new customers, respondents clearly indicated that being contacted through e-mail or social media were the preferable methods (75 percent of respondents). People were put off by door-to-door salespeople, as about 37 percent found this method the most annoying. Younger adults are more open to home phone calls by salespeople than older adults. Only 14 percent of adults ages 18-34 identify home phone calls as most annoying, while almost twice as many people 35 and older (24 percent) do. Sales calls via a cell phone are considered annoying by respondents of all ages and door to door sales were ranked the most annoying.
"Sales professionals can use electronic communications to reach out to clients and prospects, as well as other methods, but they must first know and understand the rules of engagement. Engage a client or prospect to find out how they want to be communicated with and then honor that," says Mattson. "And remember, salespeople get paid to communicate, buyers don't."
Sandler Training is the leading provider of sales and management training with over 200 licensed trainers throughout the U.S. and internationally. The company provides a full range of sales and management training programs, with powerful coordination and customization benefits throughout its extensive franchise network. Among its many achievements, Sandler has been awarded the #1 ranking for training programs in Entrepreneur Magazine's "Franchise 500" nine times since 1994, the most recent being for 2010.