Trinity Valley Electric Cooperative (TVEC), an electric distribution cooperative that serves about 50,000 electric meters in an area just southeast of Dallas, Texas, has taken an unprecedented approach to building their own charity. TVEC has started a program that they're calling "Operation Roundup", where customers will automatically have their electric bills "rounded up" to the nearest dollar–with the proceeds going to the TVEC Charitable Foundation.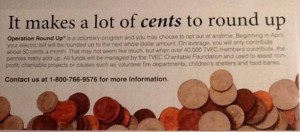 But there is a catch. TVEC customers are being automatically enrolled in this program by Trinity Valley Electric Cooperative. Customers who do not wish to be a part of the program (those who do not wish to automatically donate to the TVEC Charitable Foundation), must Opt Out of the program. In other words, TVEC is using their own power to force their current customer base to donate to their own foundation. It should be the other way around: customers should Opt In to the program, they should NOT be automatically enrolled.
According to the Operation Round Up program FAQ, all "bills will be rounded up beginning in April, 2013." The FAQ goes on to say that "If you do not want to participate in Operation Round Up®, simply contact TVEC and request that your name be removed from the program." Take a look at what they say on the FAQ: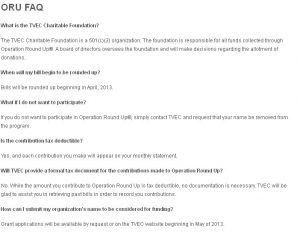 This directly contradicts what TVEC says on their website about the program: "Co-op members can voluntarily participate by rounding up electric bills each month to the nearest dollar." See the screen capture below for the wording: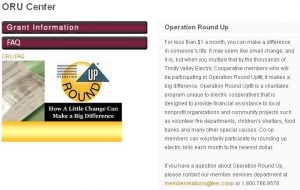 Since when is it acceptable to force your customers to donate to a foundation? The very foundation that's named after your own company?
Don't get be wrong, I have no problem with donating to the TVEC Charitable Foundation. However, I don't think it's right that customers are forced to donate and that customers have to Opt Out of a program.