The United States General Services Administration (aka GSA), has launched their own blog in order to further citizen access to official government information and services.
Now available at GovGab.gov, this new blog features daily posts from a GSA team of five managers. Each of these people will supposedly draw on his or her professional experience as a government information expert. The goal is to help spotlight government information and services that we all use in our daily lives.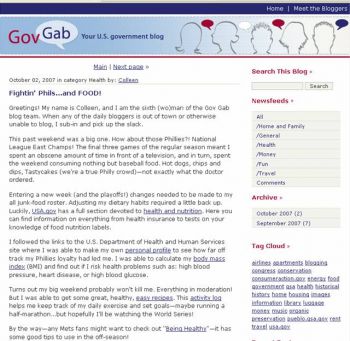 According to the site, the daily blog posts will "cover a wide range of topics, including "What to do when an airline loses your luggage" as well as "How to submit a recipe to the Library of Congress cookbook." Of course, you, the citizen, can respond to each blog post by adding a comment.
GovGab is the GSA's Office of Citizen Services and Communications' (OCSC) attempt to officially join the blogosphere and draw on the resources in OCSC's family of Web sites, which includes USA.gov, the official Web portal of the U.S. government; Pueblo.gsa.gov, the public's trusted source of consumer information for more than 35 years and ConsumerAction.gov, the federal site that helps with consumer problems.