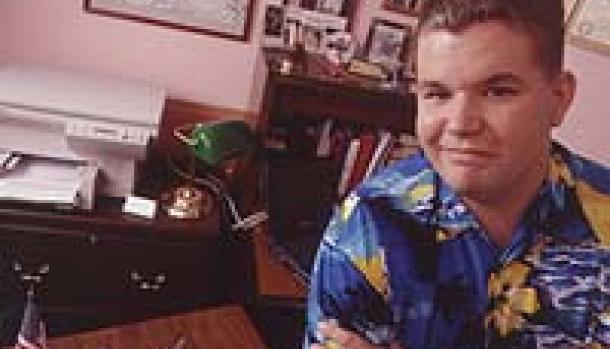 Photo of Tye Thomas courtesy Texas Monthly.
Randal "Tye" Thomas, the youngest mayor of Gun Barrel City, Texas, and also a member of the Electoral College in the 2000 Presidential Election, has died at the age of 35.
In 2000, Mr. Thomas was the youngest mayor of Gun Barrel City, Texas, and the youngest person in Texas history to be mayor at the age of 21.
Thomas was considered a rising star in the Texas Republican Party, but was accused of misusing city equipment for personal gain and perjury in 2000. A Henderson County Texas Grand Jury, who "passed" on the case and declined to issue an indictment or no bill Thomas.
In 2001 Mr. Thomas resigned as Mayor of Gun Barrel City, Texas.
Mr. Thomas' Twitter Account hasn't been updated since March, and shows that his location is "Providence Rhode Island".
Details of Mr. Thomas' death and the circumstances involved have yet to be revealed.
We'll update this post as warranted.
Update: January 14, 2014
The City of Gun Barrel City, Texas has posted on the Facebook page about the death of Randal Tye Thomas: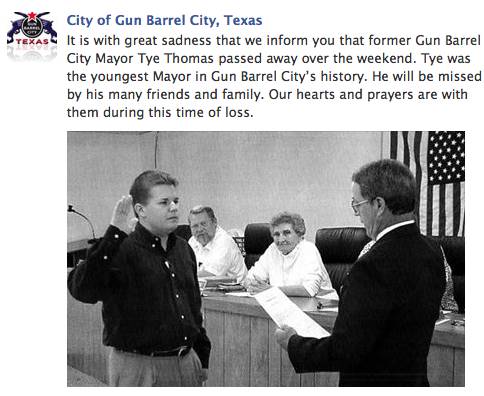 Update: January 14, 2014: 10pm Central Time
The Light of Reason broke this story yesterday, on January 13th. The Athens Review reports:
Maj. David Lapatin, Commanding Officer of the Investigation division of the Providence Police Department said the department received a call from someone in Texas to make a wellness check on a Tye Thomas on Bash Road in Providence. The person said Thomas was not answering his phone or texts. The Providence Police were told that was unusual.

Thomas did not answer the door when police arrived. The officers located an unlocked window, and were able to gain entrance to the house. Thomas was lying on a mattress, and appeared to be deceased, according to Lapatin. Thomas was pronounced dead at the scene on Monday, Jan. 13 at 12:30 p.m. Lapatin said the death did not appear to be suspicious.