A Southwest Airlines jet, carrying 124 passengers and a crew of 5 people landed at the wrong airport in Missouri. They flight was scheduled to go from Chicago's Midway airport to Branson Missouri. Instead, the flight landed at M. Graham Clark Downtown Airport instead of the Branson Airport, which is just nine miles away.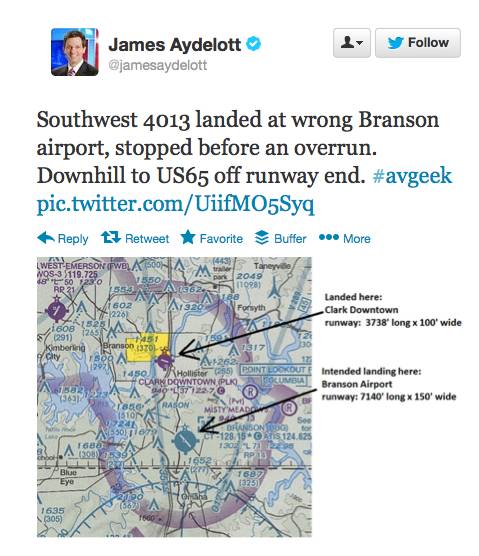 Not only did the Southwest Airlines flight 4013 land at the wrong airport, there is even another problem. That problem is that the runway at M. Graham Clark Downtown Airport is only 3700 feet long. The Branson airport's runway is 7100 feet long. Dallas Love Field's runway (Southwest Airlines is based in Dallas) is 8800 feet long.
Southwest Airlines has issued a statement:
The Southwest Airlines Pilot in command of flight #4013 safely landed at (PLK) Taney County airport this evening. The Boeing 737-700 carried 124 Customers and a crew of five and was operating as a scheduled flight from Chicago Midway to Branson.

Our ground crew from the Branson airport has arrived at the airport to take care of our Customers and their baggage. The landing was uneventful, and all Customers and Crew are safe.
How could a pilot land at the wrong airport? Really? How embarrassing!