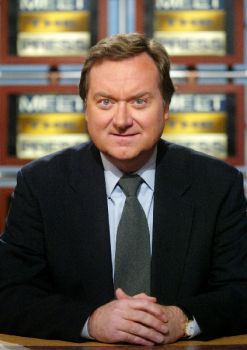 Tim Russert the NBC journalist and host of NBC's Meet the Press television show, has died after collapsing at NBCs Washington news bureau. He was 58 years old.
Born Timothy John Russert, Jr. on May 7, 1950, Tim Russert was a political journalist. He hosted the hit NBC television show called "Meet the Press" from 1991 his death on June 13, 2008. Tim Russert was the Washington Bureau Chief for NBC News.
Mr. Russert also hosted a weekly television interview program called "Tim Russert" on the MSNBC television network. Mr. Russert was also a frequent political correspondent and a frequent guest on many other NBC News television programs like "The Today Show" and "Hardball".
Mr. Tim Russert co-hosted NBC's presidential Election Night coverage. Tim Russert had diabetes and died of a heart attack at 1:14pm EDT on June 13, 2008.