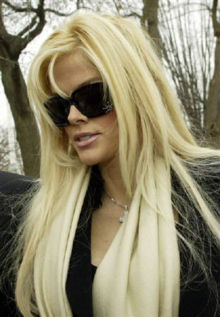 Anna Nicole Smith (November 28, 1967) was an American model, actress and buxom blonde celebrity, who first gained popularity as Playboy magazine's 1993 Playmate of the Year. Anna Nicole Smith collapsed at the Hard Rock Hotel near Hollywood, Florida and died on February 8, 2007.
Her highly publicized marriage to oil business executive and billionaire J. Howard Marshall, who was 63 years her senior, resulted in tumultuous speculation that she married the octogenarian merely for his money, which she denied. Following his death, she began a lengthy and ongoing legal battle over a share of his estate. Her case, Marshall v. Marshall, reached the U.S. Supreme Court in February 2006 on a technical question of federal jurisdiction.
Smith's career and public image subsequently suffered as her weight gain and antics were reported in supermarket tabloids and in her reality television series, The Anna Nicole Show (2002-2004).
More recently, Smith slimmed down to her former shape and became the spokeswoman for the weight loss product TrimSpa.
She was born Vickie Lynn Hogan in Houston, Texas, the daughter of Donald Eugene Hogan (born July 12, 1947) and Virgie Mae Tabers (born July 12, 1951). Her half-sisters are Donna Hogan and Amy Hogan.
When she was very young, Smith's family moved to Mexia, a small town 79 miles (127 km) south of Dallas. Her father then left the family; he and Virgie were divorced November 4, 1969. Smith was raised by her mother and maternal aunt, Elaine. Virgie, who was married previously to Mr. Tacker, was subsequently married to Mr. Hart and to Mr. Arthur. She worked as a law enforcement officer for 28 years.
While growing up, Vickie told others she wanted to be the next Marilyn Monroe. While working as a waitress at Jim's Krispy Fried Chicken in Mexia, she met Billy Wayne Smith, who was the cook at the restaurant. They were married April 4, 1985. She was then age 17 and he was 16. The next year, she gave birth to their son, Daniel Wayne Smith (January 22, 1986-September 10, 2006). She and Billy separated in 1987 and she moved back to Houston with one year old Daniel. They were officially divorced February 3, 1993, in Houston.
Initially, she found employment at Wal-Mart and later as a waitress at Red Lobster, but could not make enough money to support herself and Daniel. She then became an exotic dancer.
In 1991, Smith began taking modeling and voice lessons. In October of that year, she saw an ad in the newspaper to audition for Playboy magazine. She then went on to careers in modeling and acting.
On February 8, 2007, Smith was found unresponsive in a room of the Seminole Hard Rock Hotel and Casino in Hollywood, Florida. She was rushed to hospital. A witness told local media that paramedics were pumping her chest when they took her out of the hotel.
Here's some recent posts:
link
link
link
According to hotel officials, Smith was "unresponsive" and emergency responders performed CPR at the scene and a breathing apparatus was inserted in her throat. Anna was immediately transported to Memorial Regional Hospital in Hollywood just after 2:00 PM EST.
WFOR-TV in Miami reports that Anna was found unresponsive in her hotel room. Local streets were closed off to rush Smith to the hospital, three miles away. Paramedics were seen pumping her chest as she was taken from the hotel.
Anna Nicole Smith died today in Hollywood Florida after being found unconcious in her hotel room at the Hard Rock Cafe.