Woo-Hoo! Check it Out, Man! The United States Postal Service what The Simpsons stamps will look like when they are released May 7, 2009. Take a look at which Simpsons characters could appear on the new stamps and vote for your favorite one at the USPS website. The Simpsons, currently in its 20th year as a regularly scheduled half-hour series, is the longest-running comedy in television history.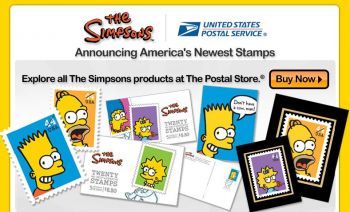 Vote for your favorite Simpsons character
Starting on April 9 at 8:00am EST and ending on May 14, 2009, you can vote for your favorite Simpsons character on the . Results from the voting will be announced shortly after May 14, 2009.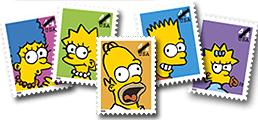 Pre-Order The Simpsons Stamps and Stamped Postal Cards
You can order The Simpsons Stamps and Stamped Postal Cards right now. The stamps are 44 cent First Class Mail stamps, and you can order them in books of 20. The stamped postal cards come in packs of 20. You can order them online and they'll be mailed out on May 7th, 2009.
Enter the Matt Groening Signed Poster Sweepstakes
Hey, Dude, Check it Out! If you're over 18 years old and love The Simpsons then you can enter to win a limited edition Simpsons poster signed by Simpsons creator and executive producer Matt Groening. 25 of them will be given away.
The USPS says that "The U.S. Postal Service receives approximately 50,000 suggestions for stamp subjects each year, yet only about 20 topics are selected for postage. The Simpsons is the only television show to be featured as the sole subject of a stamp set while still in primetime production."
The Simpsons, which airs Sundays (8:00-8:30 PM ET/PT), is the longest running primetime sitcom in television history. The Simpsons exploded into a cultural phenomenon in 1990 and has remained one of the most groundbreaking and innovative entertainment franchises, recognizable throughout the world. Cartoonist Matt Groening created the infamous Simpson family: Homer, Marge, Bart, Lisa and Maggie Simpson – all now identifiable by their silhouettes alone.
Here's more about the Simpsons stamps:
'Simpsons' Stamps Unveiled
'Simpsons' stamps en route
USPS Simpsons Stamps
Postal Service Announces 'Simpsons' Stamps
simpsons stamps
First Class D'Oh!