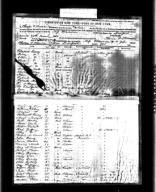 Ancestry.com has uncovered the Irish roots of Barack Obama. The Senator's thired great grandfather was born in Ireland and immigrated to the United States in 1850.
Ancestry.com, the world's largest online resource for family history which recently discovered Al Sharpton's shocking connection to Strom Thurmond, has discovered that presidential hopeful Barack Obama has Irish branches in his family tree. More than a century and a half ago, 19-year-old Falmouth Kearney, Obama's third great-grandfather, sailed from Ireland, landing in New York harbor on March 20, 1850.
Settling initially in Ohio among Irish relatives, Falmouth married, had eight children, and eventually moved to Indiana. Three of Falmouth's daughters married three brothers with the last name Dunham. Obama's mother is descended from one of these couples — her birth name was Dunham.
Falmouth was among the thousands of Irish immigrating to America to escape the late 1840s potato famine in Ireland. By 1860, New York City had the largest Irish population in the world — a quarter of its residents had been born in Ireland.
If Obama succeeds in his presidential aspirations, he won't be the first Commander in Chief with ties to Ireland. Ronald Reagan's great-grandfather, Michael O'Regan, was born in Ireland in the 1820s, as was John F. Kennedy's great-grandfather, Patrick Kennedy.
In fact, JFK's home state of Massachusetts boasts the highest per capita Irish population with 24 percent of its residents claiming Irish heritage. Interestingly, the White House was also designed by Irishman James Hoban.
With more than 5 billion names and 23,000 searchable databases and titles, Ancestry.com is the No. 1 online source for family history information. Since its launch in 1997, Ancestry.com has been the premier resource for family history, simplifying genealogical research for millions of people by providing them with many easy-to-use tools and resources to build their own unique family trees.
Ancestry.com is part of The Generations Network, Inc, a leading network of family-focused interactive properties which together receive 8.5 million unique visitors worldwide and over 400 million page views a month (comScore Media Metrix, January, 2007).