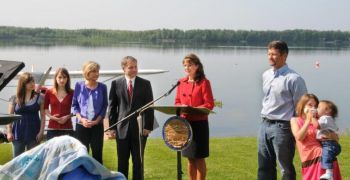 On Friday, July 3, 2009, Alaska Governor Sarah Palin resigned, with 16 months left in her term.
A recent Time article explained it best:
In a hastily called press conference on the eve of a three-day holiday, Palin presented herself as a point guard exhausted by the "full court press from the national level." The 2008 Republican vice-presidential nominee explained how the metaphorical point guard should respond. "She drives through a full court press, protecting the ball, keeping her head up because she needs to keep her eye on the basket, and she knows exactly when to pass the ball so that the team can win," Palin said. "And I know when it's time to pass the ball for victory." Or take a timeout, as the case may be.
Could the reason behind her sudden resignation be her higher hopes of running for a National office? Perhaps not, as resigning as Governor of Alaska has all but put a hold on her political career. Rarely do political candidates step down and resign their political posts.
Could the reason behind Sarah Palin's Resignation be that she's going to have an federal indictment against her? Perhaps.
Could the reason for Sarah Palin's resignation be because she has fallen victim to her political and non-political critics? Perhaps. You might recall recent inexcusable commentary about Sarah Palin's daughter by David Letterman.
Could the reason for Sarah Palin's resigning her post as Alaska Governor be something that we aren't aware of yet? Most likely. I do believe that Sarah Palin's resignation could be part "family reasons", but it could be something else. Perhaps Sarah Palin resigned because she just doesn't feel that she's effective anymore as the Governor of Alaska?
Sarah Palin, during her official press conference held at her Alaska home, gave the following statement:
"I am determined to take the right path for Alaska even though it is not the easiest path," said Governor Palin after the announcement. "Once I decided not to run for re-election, I also felt that to embrace the conventional 'Lame Duck' status in this particular climate would just be another dose of 'politics as usual,' something I campaigned against and will always oppose. It is my duty to always protect our great state. With that in mind, my family and I determined that it is best to make a difference this summer, and I am willing to change things, so that this administration, with its positive agenda, its accomplishments, and its successful road to an incredible future, can continue without interruption and with great administrative and legislative success. I look forward to helping others – to fight for our state and our country, and campaign for those who believe in smaller government, free enterprise, strong national security, support for our troops, and energy independence."
Sarah Palin is tired of politics. Yeah, right.
Update:What I'm hearing now is that Sarah Palin has resigned ahead of being indicted on federal corruption charges, being named the "iceburg scandal". A blog post here and here has more about the Iceburg Scandal, Brad's blog says:
possible federal indictments against Palin, concerning an embezzlement scandal related to the building of Palin's house and the Wasilla Sports Complex, built during her tenure as Mayor. Both structures, it is said, feature the "same windows, same wood, same products." Federal investigators have been looking into this for some time, and indictments could be imminent, according to the Alaska sources.
Also, there's an interesting here talking about how the "upcoming Sarah Palin federal indictment would have crippled her ability to govern effectively."